South Fork American River Rafting
"The South Fork American is one of the country's premier recreational and historical rivers. Known as one of the most popular commercially rafted rivers in California, the South Fork has natural beauty and whitewater rafting for almost everyone.
South Fork American River rafting is not recommended for inexperienced rafters, kayakers or inner-tubers (with the exception of the Coloma to Lotus section). The South Fork is Class III with some tricky and potentially dangerous rapids. The river gradient is a steep, exciting 30 feet per mile in the upper gorge from Chili Bar to Trouble Maker, easing to 9 feet per mile through the Coloma Valley, and becoming 33 feet per mile through the lower gorge.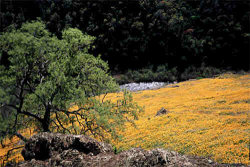 The South Fork of the American is unusual in that most of the land along the river is privately owned. Homeowner's, commercial rafting companies, private boaters, ranchers, anglers and picnickers all share this beautiful river. Rafters may stop on public lands along the river, which are marked by blue signs."
Excerpted from The American River: A Recreational Guidebook
The South Fork of the American is also quite rich in Gold Rush history. As you float down the upper stretch of the South Fork you'll notice the ditch running along river left. The ditch provided irrigation water to the Coloma Valley. You'll pass through Marshall State Park and Sutter's Mill; the site that marked the beginning of the gold rush when John Sutter first discovered gold.
The South Fork is conveniently located along Highway 49, a short distance from Interstate 80 or Highway 50. Tucked away in the Sierra foothills, the South Fork American River is just 35 miles east of Sacramento or 22 miles south of Auburn.
Images courtesy of All-Outdoors California Whitewater Rafting
.
General Boating Information for the South Fork American
Difficulty: Class III From Chili Bar to Marshall State Park; Class II through the Coloma Valley; Class III from Fowlers Rock to Salmon Falls.
Length: 21 miles
Season: All Year, except in years with very low water runoff from snowmelt, when releases from Chili Bar Dam shut down from October till May.
Gradient: 24 feet per mile overall; 30 feet per mile the first 5 miles; 9 feet per mile through the Coloma Valley; 33 feet per mile the last 5 miles through the lower gorge.
Runnable Levels: Above 800 cubic feet per second. The river becomes Class IV above 6000 cubic feet per second. Difficulty is extreme above 5000 cubic feet per second
Camping: There are several public campgrounds with river access. Visit the South Fork Camping page for more details.